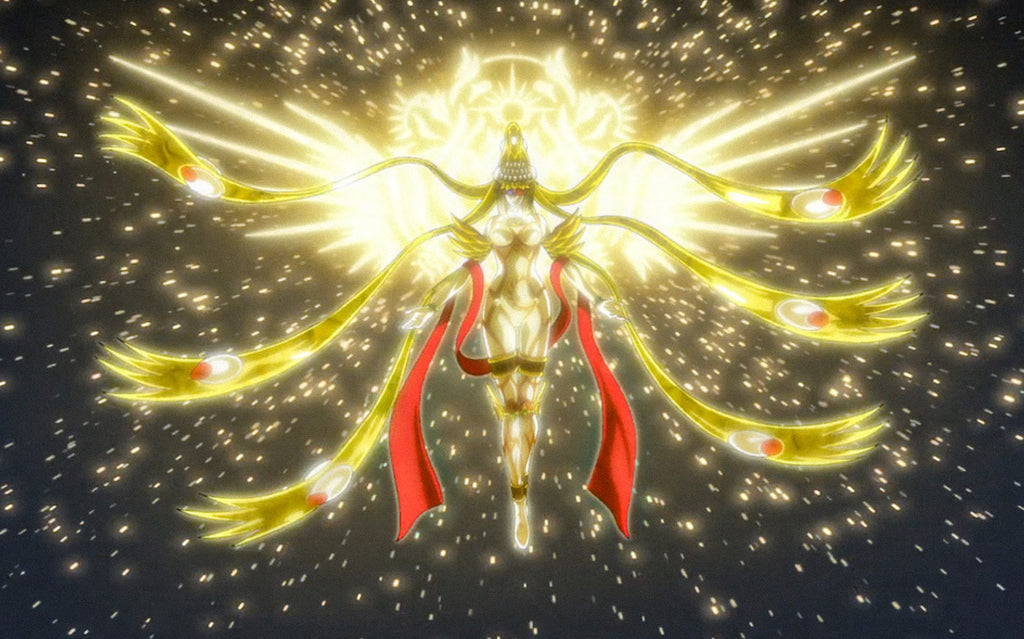 We picked some of our favourite HUMONGOUS music tracks from games — MASSIVE-sounding pieces that escalate encounters and raise the heart rate.
Track picks by Thomas Quillfeldt, Mat Ombler and Barry "Epoch" Topping

Boss fight themes have been with us since the 1980s, and everyone and their dog (and their dog's fleas) know that music is a key way developers can heighten the tension of boss encounters. As the decades have passed, composers have vied to create the loudest and most bombastic soundtrack cues to match the ever more audacious visuals cooked up by designers — a particular speciality of Japanese gamemakers.
We rounded up some of the MOST MASSIVE, GARGANTUAM, COLOSSAL, BROBDINGNAGIAN video game music tracks for your listening pleasure (with some 'honourrable mentions' included in the playlists below.)
If you think we left something essential off, or know of a GIGANTIC-sounding deep cut, do give us a poke on Twitter.

---
"Ludwig, The Holy Blade" by Nobuyoshi Suzuki
Bloodborne: The Old Hunters (2015)
Album: iTunes
Ludwig is the first boss of the Bloodborne DLC and he's a real stinker for many. The consolation is getting to (repeatedly) enjoy this titanic track by Nobuyoshi Suzuki. (Fun fact: he's also the lyricist for the Japanese version of Super Mario Odyssey's "Jump Up, Super Star!")
FromSoftware's signature style is to create a thick atmosphere using crunchy sound design when the player is traversing levels, then crank up the drama with huge music cues during boss fights. This particular arena, boss design and piece coalesce to create the quintessential FromSoft boss experience: empowering yet stressful and desperate, veering between tactical aggression and abject ineptitude.
---
"Antarctic Oscillation" by Chris Christodoulou
Risk of Rain 2 (2020)
Album: Spotify | Apple Music | Bandcamp
Prog rock has infiltrated video games several times over the years, for instance in '90s JRPGs via Uematsu's epic keyboard work. Between Darren Korb and Chris Christodoulou riffing it up in Hades and Risk of Rain 2 respectively, prog has gained a solid foothold in indie action games.
There are multiple rock epics on the Risk of Rain 2 soundtrack, but "Antarctic Oscillation" is prog to the core with its odd time signatures, max riffage, pitch bending keyboard solos and double bass pedal.
Laced With Wax interviewed Christodoulou about the game's early access process and how he treats his own soundtrack albums like a proper music artist release.
---
"The Darkness Nova" by Yoko Shimomura
Legend Of Mana (1999)
Yoko Shimomura — perhaps better known in the West for Street Fighter 2 and Kingdom Hearts — came on board for this, the fourth game in the Mana series. She has spoken warmly about the score in past interviews.
It's easy to picture Shimomura in her composer cave, head banging and making devil horns while working on "The Darkness Nova". This chip-thrash opus plays during almost every major boss encounter in the game.
---
"Of Our Bones, The Hills" by Austin Wintory
The Banner Saga (2014)
Album: Spotify | Apple Music | Bandcamp
As well as Austin Wintory's scores for Journey, ABZU, Assassin's Creed: Syndicate, well worth checking out are his rousing and richly textured trilogy of soundtracks for The Banner Saga series.
"Of Our Bones, The Hills" maintains its intensity through thumping percussion and repeated, overlapping brass patterns; before floating into a heavenly passage comprising exquisite female vocals. It superbly communicates the sense of desperate trouble and strife that permeates the game's storyline.
Wintory shared a look into the end-to-end music production process for 2020's The Pathless.
---
"Champion Music" by Junichi Masuda, Go Ichinose
Pokemon Red / Blue / Yellow (1996)
So, you beat the eight gym leaders and smashed your way through the Elite Four? Congrats. There's one final test though, before you can claim your title as the Pokémon master...
Junichi Masuda and Go Ichinose's music for the original Pokémon games pushed the Game Boy to its limits, and this track stands as one of the finest from that body of work. The constant key changes are a perfect mirror of the anxiety the player is experiencing, wondering whether the hits they're dealing are going to be enough to knock out their rival's Pokémon.
---
"Scorpion Sentinel" by Nobuo Uematsu arr. Shotaro Shima
Final Fantasy VII Remake (2020)
The music team for Final Fantasy VII Remake maybe went a teensy bit overboard with the soundtrack for a game that, after all, only covers about 1/10 of the 1997 original game's plot. 8+ hours of music was released on the official album (and that's not nearly all of it from the game), including hundreds of arrangements of Nobuo Uematsu's compositions and a varied set of new tracks too.
Arranger Shotaro Shima is a bit of an unsung hero. He delivered some excellent versions of beloved Uematsu joints including this barnstorming orchestral rock rendition of "Fight On!" (aka "Still More Fighting".) It is essential in heightening the already over-the-top first boss encounter of the remake.
---
"Confronting Myself" by Lena Raine
Celeste (2018)
Album: Spotify | Apple Music | Bandcamp
A true indie hit, Celeste offers nuanced, scalable difficulty so that players can set the parameters of the challenge they want to face. The game's narrative is a thoughtful, compelling reworking of the tropes of the power fantasy, seeing protagonist Madeline take on a brutal mountain climb while struggling with her mental health.
Lena Raine's beloved, post-chiptune score was meticulously crafted to fit with the game's narrative and the complex, conflicted emotions of the characters. As the album track title suggests, "Confronting Myself" is relatively straightforward, emotionally speaking. Madeline squares off against Badeline — the embodiment of the former's insecurities and fears — in a frantic encounter.
Here's a great interview with Raine via KEXP.
---
"The Greatest Jubilee" by Rei Kondoh
Bayonetta (2009)
Album: Spotify | Apple Music
Everything in the Bayonetta series is BIG: the heels, the combos, the bosses, and especially the soundtrack. Naturally, the game's final boss is a fittingly grand entity: Jubileus, The Creator, Dea of the Hierarchy of Laguna is a primordial goddess-like being, revived to unite the Trinity of Realities. Pretty important then.
"The Greatest Jubilee" is a stupendously huge-sounding orchestral-choral cue from one of the great 'video gamey-ass' video games. It boasts multiple key changes, church organ, long, dancing piano runs, and a near-constant intensity.
---
"7.53", "8.02", "19.06" & "19.07" by Danger
Furi (2016)
Album: Spotify | Apple Music | Bandcamp
Pretty much any track from Furi is an epic boss track, it being a 'boss rush' action title. If you're wondering about the odd track titled, French electronic musician Franck Rivoire (aka Danger) has a curious habit of naming various EPs and tracks with dates and time names.
This sequence of tracks plays under the final boss fight, propelling the player through the deathly extravaganza of laser beams and plasma balls.
We included the huge banger "You're Mine" by Carpenter Brut in our four-to-the-floor listicle.
---
"Twilight of the Gods" by Takeru Kanazaki
Fire Emblem Echoes: Shadows of Valentia (2017)
Fire Emblem Echoes: Shadows of Valentia is a remake of the series' second entry, Fire Emblem Gaiden on the NES. This orchestral arrangement stays true to the original's 8-bit melodies, while adding gargantuan choral passages and oodles of piano. It's nothing short of incredible.
So incredible, in fact, that this theme was used as the accompaniment to a fireworks display in Japan.
---
"God of the Dead" by Darren Korb
Hades (2020)
Album: Spotify | Apple Music | Bandcamp
Three years in the making, Supergiant's roguelike dungeon battler is an incredible accomplishment. Tight action gameplay, an addictive loop, thirsty deific cast, and Korb's supreme rock riffage combine to make an award-winning experience.
The composer has dubbed the sound of the Hades' music 'Mediterranean prog rock Halloween music'... Now there's a sub-subgenre for you. He has also confirmed that his obsession with Rock Band absolutely influenced the creation of Hades' music.
noclip made a brilliant documentary series about the game's development. Here's the music and art episode.
---
"Kraken Combat" by Ramin Djawadi
Gears 5 (2019)
Album: Spotify | Apple Music
Ramin Djawadi has a history of GIGANTIC soundtrack composition. Working as part of Hans Zimmer's stable earlier in his career, he went on to score the first Iron Man movie, Game of Thrones, Pacific Rim, and the Warcraft film adaption.
Corporal Kait Diaz became the lead character of the Gears storyline as The Coalition took the reigns of the series. Djawadi reworked his theme for Kait into this pumping electro-orchestral cue. N.B. Krakens aren't known for their diminuitive stature.
Laced has released various Gears albums on vinyl and digitally.
---
"Live and Learn " by Crush 40
Sonic Adventure 2 (2001)
Album: Spotify
Clunky camera aside, Sonic Adventure 2 is a solid platformer with a banging soundtrack. The OST spans everything from ska to glam rock, from hip-hop to grunge.
The anthemic riffs of "Live and Learn" vibed with many an edgy, Kerrang-consuming teenager. It sounds like something straight out of the late '80s, the ultimate balance between glam rock cheese and dirty grunge riffs. An extended version plays during the final battle, in which Shadow and Sonic put their differences aside to batter a giant bio lizard while flying around in space. Truly epic.
---
"Grandma - Destruction" by Kuniyuki Takahashi & Keiichi Okabe
NieR:Automata (2017)
Album: Spotify | Apple Music
The music of the NieR titles has truly entered the VGM pantheon. In Keiichi Okabe, game director Yoko Taro found the perfect collaborator to help amplify that sense of philosophical longing and lingering sadness unique to the series.
"Grandma - Destruction" bursts with both musical and emotional energy. Thrilling rhythms juxtapose melancholic melodies, which are, in turn, backed up by extraordinary contrapuntal lines. Soaring stuff.
---
"The Grimm Troupe" by Christopher Larkin
Hollow Knight: Gods & Nightmares (2018)
Album: Spotify | Apple Music | Bandcamp
Hollow Knight is a mind-boggingly vast subterranean adventure largely made by fewer people than you have fingers on one hand. It's also a hard game, but the player can choose how far into the most challenging content they want to delve.
This second soundtrack album includes tracks from the tough, optional content added to the game post-release. The wonderfully characterful, almost pantomime-like bosses deserved dramatic music cues, and Christopher Larkin went full rock opera for The Grimm Troupe.
Here's a Bandcamp blog interview with Larkin.
---
"Dark Beast Ganon Theme" by Manaka Kataoka
The Legend of Zelda: Breath of the Wild (2017)
There's a musical shortcut for making the player feel truly epic during a final boss fight: bring back the main theme. For a series that's usually rife with infectious melodies, Breath of the Wild's minimalistic score has more in common with Steve Reich than previous Zelda OSTs.
"Dark Beast Ganon Theme" is one of the more traditional on the soundtrack, weaving in ideas from previous games (such as Ganon's theme at 1:04) around the hyperactive virtuosity of the piano and orchestral renditions of the game's main theme.
---
"Gyoubu Oniwa" by Yuka Kitamura
Sekiro: Shadows Die Twice (2019)
Album: Vinyl & CD via Laced
As well as being the quintessential 'difficult' game of recent years, Sekiro is also a work of audio-visual splendour. The recreation of an alternate Sengoku-era Japan is both over-the-top and full of subtle touches; as is the score by Yuka Kitamura (Dark Souls, Bloodborne) and Noriyuki Asakura (Tenchu.)
For "Gyoubu Oniwa", Kitamura mixes traditional Japanese instruments with the thunderous, cinematic orchestral and choral textures we've come to expect during FromSoftware boss encounters. Mettle is tested as metal collides.
Thie video gives fans a peel into Kitamura's creative process.
---
"Dead Kel" by Grant Kirkhope
Kingdoms of Amalur: The Legend of Ded Kel (2012)
Album: Spotify | Apple Music | Bandcamp
Legendary composer Grant Kirkhope pulled out all the stops for the orchestral soundtrack to Kingdoms of Amalur: Reckoning. Although the game has seen a remaster and re-release, it's a shame that its legacy was somewhat overshadowed by the financial collapse of its developer.
Ex-pirate king Dead Kel isn't especially inert during the events of the DLC, but the Fateless One (aka the player aka Gladys from Kent) soon corrects that — to the sound of the Czech National Symphony Orchestra belting out another brilliant Kirkhope jam.
---
"Stopper (PC Engine CD version)" by Mieko Ishikawa and Atsushi Shirakawa
Dragon Slayer: The Legend of Heroes II (aka Prophecy of the Moonlight Witch) (1992)
Album: Spotify | Apple Music
(Picked by Barry "Epoch" Topping) As with Shin Megami Tensei and Persona, Dragon Slayer and The Legend of Heroes are longstanding, intertwined Japanese series. First released on NEC's PC-88 home computer, Heroes II was also ported to a wide range of mid-'90s platforms, including the PC Engine CD, SNES, and PlayStation.
"Stopper" is a maximalist showstopper (boom-tish) with hard rock drums, excitable synths and a mother of a squealing guitar solo.
---
"Fight With Seymour" by Nobuo Uematsu
Final Fantasy X (2001)
Album: Spotify | Apple Music
"Fight With Seymour" alone would be conclusive evidence of Nobuo Uematsu's love of prog. Players trying to withstand those firega hits are treated to mad organ passages that call back to earlier Final Fantasy boss themes, decorative synth flourishes, and a relentless drum beat.
Uematsu's use of percussion and mastery of rhythmic placement ought to impress every drummer out there — he just loves smashing things on the offbeat. There's a standout moment at 2:23 where the track switches to ⅞ time, the snare drum is on the offbeat, and there's a gorgeous polyrhythm duking it out between the organ and the strings.
---