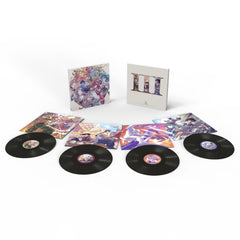 Street Fighter III: The Collection (Deluxe X4LP Boxset)
£70.00
Album:
Street Fighter III: The Collection 
Artist:
Capcom Sound Team
Product Information: 
– 72 tracks from three Street Fighter III soundtracks (New Generation, 2nd Impact, and 3rd Strike)
– Four 180g black vinyl 
– Deluxe 3mm spined disc sleeves 
– Rigid board slip case
– Music by Hideki Okugawa and Yuki Iwai
...................................
Capcom and Laced Records have teamed up to bring the music of the Street Fighter™ III and Street Fighter™ Alpha series to vinyl.
The Street Fighter™ III: The Collection four disc box set will include 72 tracks from Street Fighter III: New Generation, Street Fighter™ III 2nd Impact: Giant Attack, and Street Fighter™ III 3rd Strike: Fight For The Future.
Street Fighter III first hit arcades in 1997 with New Generation, retaining only Ryu and Ken while introducing an otherwise brand new cast of characters. The third and final iteration, 3rd Strike, is widely recognised as one of the greatest fighting games of all time, and generated perhaps the most indelible competitive moment in gaming, with Daigo's comeback again Justin Wong aka "Evo Moment #37."
Composers Hideki Okugawa and Yuki Iwai explored a range of high energy dance styles across the three titles, leaning most heavily on jazzy house, jungle and drum'n'bass — with some samba rhythms thrown in for good measure.
Tracks have been specially remastered for vinyl and will be pressed onto four audiophile-quality, heavyweight 180g black discs. These will be housed in individual spined sleeves, contained within a rigid board outer slipcase.
...................................
*All images shown here are mock-ups. *
...................................
Tracklist:
 Disc 1
Side A
Prelude - Ranking Display
Opening
Player Select
VS.
Jazzy-NYC (underground edit) - Stage New York 1
Leave Alone - Stage London
Winner 1
Crowded Street - Stage Hong Kong
Sharp Eyes - Stage Japan 1
Wait a Minute! - Judgement Girls
Good Fighter - Stage Japan 2
Tomboy - Stage Africa
Winner 2
Side B
Get on a Train - Stage Siberian Railway
Cave Man - Stage Brazil
Here Comes a New Challenger!
The Judgement Day - Stage Greece
Jazzy-NYC (street edit) - Stage New York 2
Escape - Ending 7
Beginning to the Next - Staff Roll
Continue?
Game Over
BPM 114 - Name Entry
Disc 2
Side C
Opening
Player Select
VS.
Crowded Street (action movie edit) : Hong Kong - Yun Stage
Bottoms Up : Germany - Hugo Stage
Nile (afro edit) : Egypt - Urien Stage
Tomboy (african voice mix) : Africa - Elena Stage
São Paulo : São Paulo - Sean Stage
Funky Bay : San Francisco - Ken Stage
Side D
Good Fighter (2nd edit) : Japan - Ryu Stage
Jazzy-NYC (NY house mix) : New York - Alex Stage
Sharp Eyes (piano melo version) : Japan - Ibuki Stage
Nile (drum&bass mix) : Egypt - Gill Stage
The Flame : Japan - Akuma Stage
Staff Roll
Giant Attack
Disc 3
Side E
Opening Demo
Player Select
Just Before the Battle
China Vox (Chun-Li Stage)
Jazzy NYC '99 (Alex & Ken Stage)
The Beep (Remy Stage)
Spunky (Makoto Stage)
Kobu (Ryu Stage)
Bonus Game - Destroy the Car
Stage Results
Side F
Snowland (Necro & Twelve Stage)
The Longshoreman (Sean & Oro)
Beats in My Head (Elena Stage)
Twilight (Ibuki Stage)
Killing Moon (Akuma Stage)
The Circuit (Hugo Stage)
Disc 4
Side G
Crowded Street (Yun & Yang Stage)
You Blow My Mind (Dudley Stage)
Theme of Q
Bonus Game - Parry the Basketballs
Crazy Chili Dog (Urien Stage)
Gill Appears
Psych Out (Gill Stage)
Stage Select & Score Ranking
Judgement
Side H
Now, Fight a New Rival!
Continue?
We Await Your Return, Warrior! (Game Over)
Ending 1
Ending 2
Third Strike
Let's Get It On
Moving On