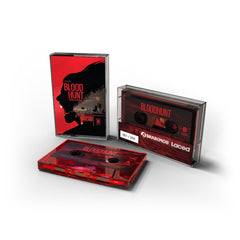 Vampire: The Masquerade – Bloodhunt (Cassette)
£12.00
Album:
Vampire: The Masquerade – Bloodhunt (Original Soundtrack)
Artist:
Atanas Valkov
Product information:
16 specially mastered tracks from the 2022 action game
Transparent red cassette shell with printed labels
Clear library case with printed J-card
Individually hand numbered
Art by Sharkmob
+ Purchase unlocks digital album downloads
...................................
Born of the overarching World of Darkness and the tabletop phenomenon Vampire: The Masquerade, Bloodhunt is Sharkmob's thrilling spin on the multiplayer action genre that sees players take part in a ruthless war between vampire factions.
Bloodhunt boasts a sonically rich score sired by acclaimed Polish-Bulgarian composer Atanas Valkov, and featuring the Sofia Session Orchestra & Choir. The city of Prague provided much of the aesthetic inspiration for Bloodhunt's soundscape: classical and romantic, yet with many a shadowy corner in which a vampire might secrete themselves. Valkov enjoyed creating contrast between modern electronic musical elements and old-world ones, as well as layering guitars and using irregular rhythmic structures. The overall soundtrack is both cinematic and brutal.
This cassette features a transparent red shell with printed labels and individually hand numbered J-card featuring stylish artwork by Sharkmob.
Purchasing this product unlocks 320kbps MP3 downloads.
...................................
*All images shown here are mock-ups.*
...................................
Track List

Side A
Bloodhunt Main Theme
Prague
Fight Night
Chasing Shadows
Theme of Brujah
Theme of Nosferatu
Theme of Toreador
Theme of Ventrue
Side B
Targeted for Bloodhunt
Vampire Blues
The Entity
Next Time...
The Ultimate Predator
Bloodhunt Main Theme (Classical Version)
Elysium
Ambient Threat