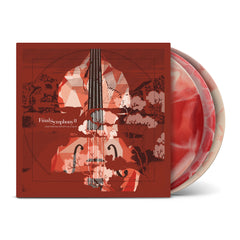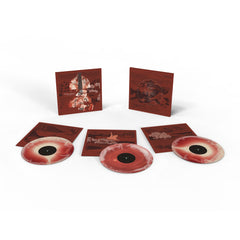 Final Symphony II (Limited Edition Deluxe Triple Vinyl)
£50.00
Album:
Final Symphony II - music from FINAL FANTASY V, VIII, IX and XIII

Artist:
Royal Stockholm Philharmonic Orchestra, Andreas Hanson and Mischa Cheung

Product information:
• Limited Edition deep red and off-white A-side/B-side effect heavyweight LPs
• Widespined outer sleeve with printed spined inner sleeves
• 7 concert pieces inc. "You Are Not Alone", "Battle at the Big Bridge" & "Final Fantasy Main Theme"
• Music by Nobuo Uematsu, Masashi Hamauzu & Jonne Valtonen
• Arrangements by Roger Wanamo, Jonne Valtonen and Masashi Hamauzu
• Recorded at Konserthuset Stockholm

Shipping estimate:
March 2024

...................................

Final Symphony II explores more beloved music from the Final Fantasy series. Rich, deft arrangements of Nobuo Uematsu's work for FF5, 8 & 9 were created by Roger Wanamo and Jonne Valtonen; Masashi Hamauzu arranged a suite based on his towering original score for Final Fantasy XIII; and Valtonen contributed the mood-setting opening piece "In a Roundabout Way - Fanfare".

Pianist Mischa Cheung takes centre stage for the Final Fantasy IX suite "For the People of Gaia" and solo arrangement "You Are Not Alone".

................................... 
All images shown here are mock-ups. 
...................................

Track List
DISC 1
SIDE A
FANFARE - In a Roundabout Way

FINAL FANTASY XIII - Utopia in the Sky

SIDE B
FINAL FANTASY IX - For the People of Gaia - Part 1

DISC 2
SIDE A
FINAL FANTASY IX - For the People of Gaia- Part 2

FINAL FANTASY IX - You are not Alone

SIDE B
FINAL FANTASY V - Library Of Ancients - Part 1

DISC 3
SIDE A
FINAL FANTASY V - Library Of Ancients - Part 2

FINAL FANTASY VIII - Mono no aware - Part 1

SIDE B
FINAL FANTASY VIII - Mono no aware - Part 2

FINAL FANTASY V - Battle at the Big Bridge

FINAL FANTASY - Main Theme