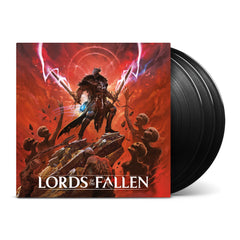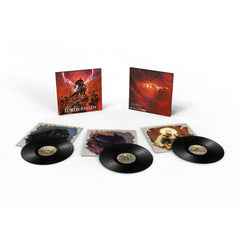 Lords of the Fallen (Deluxe Triple Vinyl)
£50.00
Album:

Lords of the Fallen (Original Soundtrack)
Artist:

Cris Velasco & Knut Avenstroup Haugen
Product information:
• 
36 tracks from the soundtrack to 2023 dark fantasy action-RPG
• 
Standard Edition – black vinyl
• 
Deluxe 3mm spined disc sleeves
• 
Widespined outer sleeve
• 
Artwork by HEXWORKS
Shipping estimate:

March 2024
...................................
HEXWORKS & CI Games have formed a co-op partnership with Laced Records to bring the towering soundtrack for action-RPG
Lords of the Fallen
 (2023) to deluxe vinyl.
Music has been meticulously mastered for vinyl and will be pressed to heavyweight discs contained in spined inner sleeves, all housed in a widespined outer sleeve. Artwork is by the HEXWORKS art team. 
The 
Lords of the Fallen

 
soundtrack is a sumptuously recorded dark fantasy masterpiece. It draws upon the melodrama of Romantic opera; the requiem masses of Mozart and co; the dissonant strife of modernist 20th Century classical; and the great horror movie soundtracks.
Composition duties were divided between multiple award-winning composers Cris Velasco and Knut Avenstroup Haugen to achieve a unique timbre for each faction and realm in the game. Music for the Rhogar faction (handled by Velasco) is raw and violent, with guttural vocalisations, pitched-down instruments, and processed human breathing used as a rhythmic device. 
Avenstroup Haugen was assigned to score the Radiant/Attestants faction, with his cues more sweeping and evocative of fervent worship with a sinister undertone. 
The bulk of the live-recorded elements were performed by the Budapest Scoring Orchestra and Choir. Vocal soloists include soprano Eurielle and contralto Jess Dandy. Principal cellist of the London Symphony Orchestra, David Cohen, was recruited to express the melancholy of the world of Axiom. Keen listeners may recognise flautist Tony Hinnigan's distinctive sound from some of the biggest Hollywood scores (
Titanic, Avatar
.)
...................................
All images shown here are mock-ups.
...................................
Track List

DISC 1

Side A

Aphotic Judgement
In Light We Walk
Mournstead Withers
Orian Ascendance
Call to War
Warmaster
Archnemesis
Side B

Stigmata
Hallowed Punisher
Maw of Faith
Rotting Whispers
Deathless Duty

DISC 2

Side A

Fiery Malice
Bloodletter
Molten Heart
Seething Dread
The Unbroken Promise
Blinding Faith
Side B

Iceheart
Bulwark of Scorn
Anathema Phase 1
Anathema Phase 2
The Twice Ordained Phase 1
The Twice Ordained Phase 2
DISC 3
Side A

Unbridled Nightmare
Howl of Devastation
Indomitable
Frigid Grief
Rotting Tyrant
Side B

Wrath of Orius
The Picture of Innocence
Lord of the Fallen
Crimson Pact
The Honored Dead
Creeping Bloodlust
Echoes of Entropy