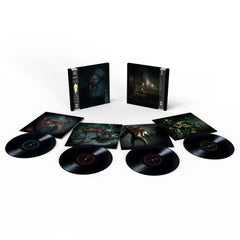 Resident Evil 2 (2019) (Standard Edition X4LP Boxset)
£70.00
Album:
Resident Evil 2 (2019) (Original Soundtrack)
Artist:
Capcom Sound Team
Product Information:
– Music by Shusaku Uchiyama, Masami Ueda, Zhenlan Kang, Tadayoshi Makino, Kentaro Nakashima, Yuichi Tsuchiya, Masahiro Ohki, Mana Ogura, Syotaro Nakayama, Taisuke Fujisawa, Cody Matthew Johnson, and Shim. 
– 46 tracks from the 2019 remake of the survival horror classic
– Four 180g vinyl in printed inner sleeves, housed in a rigid box
– Standard Edition features black discs
...................................
Laced Records and Capcom's scenarios intertwine once more as we present the music of 2019's Resident Evil 2 on vinyl.
Following a series refresh with Resident Evil 7, the impressive RE Engine was used to power this third-person reworking of a survival horror classic. The thick atmosphere, tight redesign of locations (including the iconic Racoon Police Department), and expanded role of a certain fedora-wearing hunter combined to make Resident Evil 2 an award-winning hit with a 91 Metacritic average.
The soundtrack played a huge part in establishing the taut atmosphere of Resident Evil 2, as the composers shifted gears between dark ambient electronic music, thumping cinematic percussion, and audacious orchestral and choral passages. Capcom veteran Shusaku Uchiyama — who worked on the 1998 original — was given lead composition duties, and also arranged several of Masami Ueda's original pieces. They were joined among the soundtrack credits by Zhenlan Kang, Tadayoshi Makino, Sound Director & Sound Team Leader Kentaro Nakashima, Yuichi Tsuchiya, Masahiro Ohki and Mana Ogura. Syotaro Nakayama and Taisuke Fujisawa supplied the power metal with "Tofu On Fire"; while the vinyl opens with the stomping 'true ending' credits theme "Saudade" by Cody Matthew Johnson and Shim.
46 tracks have been specially mastered for vinyl by Joe Caithness, and tracks will be pressed onto audiophile-quality, heavyweight 180g discs.

The Standard Edition features traditional black LPs, which come in printed inner sleeves all housed in a rigid box. 
 ...................................
*All images shown here are mock-ups.*
...................................
Track List
DISC 1
SIDE A
Saudade
The Beginning
What's Going On?
The Beginning of Fear
Leon and Claire Meet
Memento
SIDE B
Accident
Raccoon City
R.P.D. Hall
Fear Again
Save Room
Secret Hope
Absurd Advent
Cerberus
DISC 2
SIDE A
As One Desires
Black Impact
Escape
Conflagration
Conflagration Ⅱ
Hide & Seek
SIDE B
The Straight and Winding
Panic
Reliving the Present
In the Cable Car
Ivy
Third Demise
DISC 3
SIDE A
A Treatment for Sherry
Betrayal and Death
Regrets
Collapse
Last Judgment
Expansion
SIDE B
Mournful Pursuit
Ending
Fifth Generation
Another End
Credits
Consequence
Save Room (Model Screen)
DISC 4
SIDE A
Looming Dread
Tofu on Fire
The Rain of Mourning
The March to Survive
In Search of Lost Time
SIDE B
Run, Kathy, Run
Grim Struggle